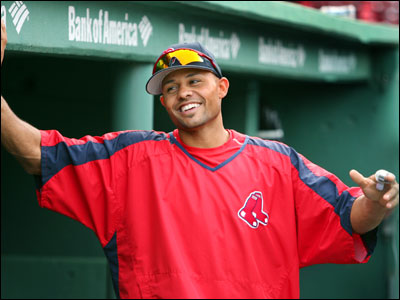 There's been a lot of speculation lately as to what the Red Sox plan to do with Crisp. Crisp's agent has come out and said that Crisp would doesn't want to play in a backup role. And previously, free agent outfielder Bobby Kielty said that he would accept a backup role with the Red Sox if they dealt Crisp.
Well, pitchers and catchers report to Spring Training in eight days. Coco Crisp doesn't appear to have a starting role on the team and Bobby Kielty has accepted a one-year deal for the Red Sox. So there are some indications that Crisp could be on his way out. But what are the possible landing spots for the center fielder?
The White Sox, Athletics, Rangers, Braves, Padres, Twins, Orioles and Nationals have all been connected to Crisp. Of those teams, the Rangers have acquired Josh Hamilton, the White Sox traded for Nick Swisher, the Twins have acquired Carlos Gomez, the Nationals got Lastings Milledge and the Padres got Jim Edmonds. That would leave the Athletics, Braves, Padres and Orioles as teams possibly in need of a center fielder.
Of those teams, the Athletics probably aren't likely because they're currently rebuilding and Crisp has more than $10 million guaranteed to him over the next two years. As for Baltimore, they've been attempting to acquire Seattle outfield prospect Adam Jones for some time now. The deal, involving Erik Bedard seems inevitable at this point.
So that would leave only the Braves as a team that I'd consider to be likely landing spots for Crisp at this point. The Braves may be planning on using prospect Josh Anderson as their starting center fielder.
So at the moment, there doesn't appear to be much of a market for Crisp. It's likely that the Red Sox will hold on to Crisp going into the season. He would make for a very valuable backup player, providing good defense and speed off the bench. And should Ellsbury fail at the major league level, Crisp would provide some insurance.
Furthermore, as the season progresses so should the market for Crisp. Openings for a center fielder will grow, either due to injury or ineffectiveness. And if Epstein catches a team at the right moment, he could probably flip Crisp for a valuable piece, depending on the team's needs at the trade deadline.