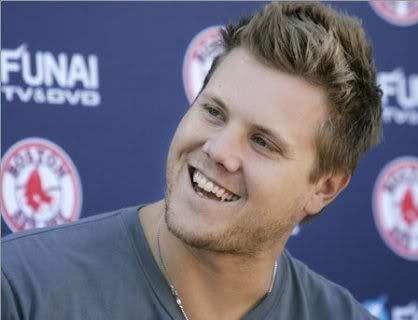 Well, Spring Training at least. Hard to believe that pitchers and catchers reporting considering the fact that I just literally spent half an hour rocking my car back and forth to get it out of a parking space. You wouldn't believe how hard it is to get your car to move just a few inches when it's on inch thick ice covered in a foot of melting snow. That was definitely the most time intensive alcohol run that I've ever gone on.
Moving on, so yeah, it was actually sunny today in a part of the country today! I can definitely understand why Papelbon's so happy. I haven't mentioned it yet, but he's by far my favorite Red Sox player. In 2005, Papelbon had his first call up and Johnny Damon left the team. So I took the number eight from Damon's jersey and the number five left over from an old Garciappara jersey and made a Papelbon jersey.
It was a little risky, given the fact that Papelbon only had 34 innings of major league experience, but he looked like a solid prospect to me. And two years later, I couldn't be happier with the choice. It hasn't just been Papelbon's performance which I've been pleased with. You can tell that he has fun. The guy's straight up crazy and doesn't give a shit what people think about it. That's my kind of guy.
Remember in little league when people used to say that the point of playing ball was to have fun? What ever happened to that?