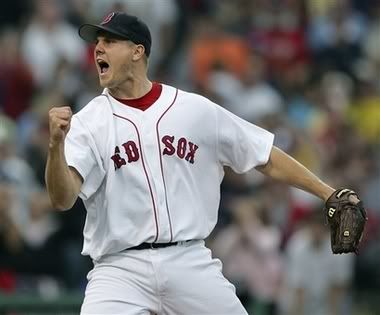 Recently,
ESPN writer Jerry Crasnick debated
which closer was better, J.J. Putz or Jonathan Papelbon. In the end he decided on Papelbon for a few reasons. First of all, Papelbon's done it in the playoffs, where he's yet to allow a run in 14.2 innings of work. Second of all, Papelbon is four years younger. And I'd like to add a third reason, Papelbon puts up many of his numbers in a much tougher hitting division and a much more hitter-friendly ballpark.
The two closers were clearly the best in the majors last year. But it was Papelbon who was the hardest major league pitcher to hit, leading the majors with a BAA of .146. And it was also Papelbon that lead the majors in K/9, striking out an insane 12.96 hitters per 9 innings of work.
There are also a few knocks on Papelbon. He doesn't pitch as many innings as many closers, although his total innings were about 10 less than the typical closer. And Papelbon hasn't been an elite closer for as long as K-Rod or Joe Nathan. But can you fault Papelbon for what he hasn't been given the chance to do?
He's six years younger than Nathan, and yet he's still outperforming him. He's been a closer in the majors for less than half as many years as K-Rod, yet he's outperforming him as well. I'm not saying he's the next Mariano Rivera (although Mo was never as dominant as Papelbon's been the last two years). But when's the last time a closer had this much success in the hitting heavy American League East? Or the playoffs for that matter?
If Papelbon isn't the best closer in baseball right now, then who is? Don't be shy now.